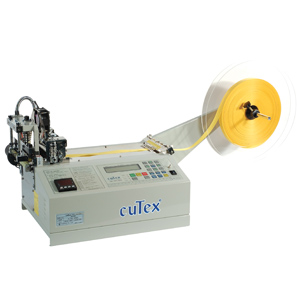 CUTEX TBC-50H
Automatic hot cut
Automatic hot cutting machine.
Cutting only straight.
Maximum cutting width of 90mm.
Hot cutting prevents material from fraying after cutting.
Cutting length of 15mm - 300m.
The machine can cut approximately 120 - 140 times per minute for cuts of 50mm length.
Presence of a stepper motor allowing an even more precise cut.
Long lasting HSS steel blade.
Machine equipped with a panel for adjusting lengths, quantities and speed. It stops automatically when the material ends. The cutting parameters (length, speed and quantity) are memorized even if the machine is switched off and on again.
Weight 21kg.
220V single phase.
Applications: Ribbon tape, small strap ...